Different from the previous seminar which was held offline (live), the third meeting of the Filkom Talk this time was held online via Zoom, some time ago. The topic discussed this time is about Mental Health with the theme "Insecurity and Toxic Relationships in the Young Generation". Presenting psychologists namely Ulfa Rahma, S.Psi., M.Psi.(1) and Elmy Bonafita Zahro, S.Psi., M.Psi.(2) this casual talk was attended by around 50 participants.
The first material was delivered by Elmy Bonafita Zahro who explained about insecurity. Elmy believes that FILKOM students who are in daily contact with computers or laptops or gadgets also need direct socialization with the people around them. Insecurity or discomfort is experienced by many humans, especially teenage.
"Insecure is a feeling of insecurity that makes a person feel anxious, afraid and insecure. Feelings of insecurity can arise regarding work, appearance, and social conditions," explained Elmy.
Elmy also explained that many insecurities start from trauma and social conditions that have been observed, such as mistakes that have been made and received punishment or direct impact. Insecure can have a negative impact on various aspects of life, including mental health that needs to be watched out for. Feelings of insecurity can trigger excessive anxiety, fear, worry and self-doubt.
One sign of insecurity is low self-esteem or negative self-image, often thinking badly of oneself or one's abilities, regardless of the efforts shown to the outside world. Feeling insecure about work can make them not have a stable job because they avoid work (absence), want to change jobs when they just start running, and don't have good relationships with co-workers.
Elmy believes that to get rid of feelings of insecurity, you should prioritize spending your free time doing things that make you happy, such as doing hobbies or hanging out with loved ones or with family.
"Friends can try to learn new things that look interesting. Besides making you happy, having new skills can also make you realize that you have talents and abilities to be proud of. This can also contribute to eliminating feelings of insecurity," she explained.
The second material was delivered by Ulfa Rahma who explained about toxic relationships. Toxic relationship is a relationship that causes an unhealthy impact on both the physical and mental condition of a person. Not only in the relationship between lovers, toxic relationships can also occur in friendship, family and work environments. Even though it looks trivial, the effects of a toxic relationship are also not good for mental health or physical health.
"Toxic relationships are not only realized by oneself. Sometimes there are also people who can see how toxic the relationship is in that environment. When viewed from its definition, a toxic relationship cannot be said to be an ordinary thing. Therefore, it would be better if you immediately get out of the toxic relationship if you already know that something is no longer healthy, "explained Ulfa.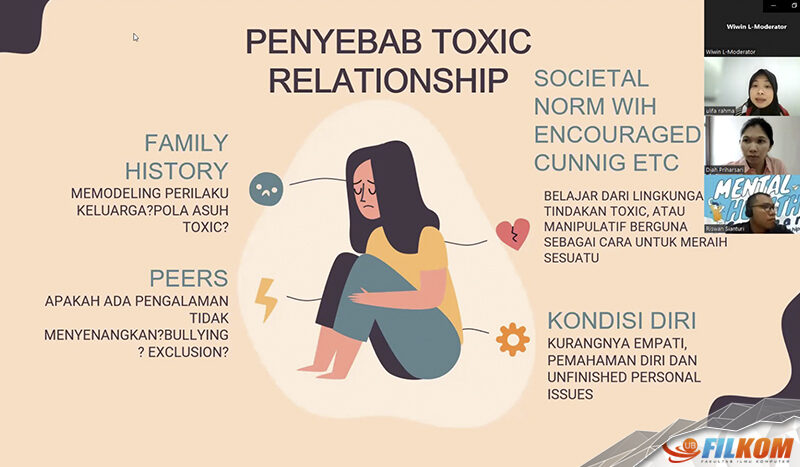 Finally, according to Ulfa, when having a closer relationship with toxic people, it's a good idea to give that person advice to consult an expert. Because in some cases, toxic people most likely need the help of a psychologist to leave their nature. Actually, it doesn't matter if we feel that it's hard to leave a toxic friend or coworker. It's just that you should try to keep communicating with other friends who are not toxic. So that we can share stories or views that are more objective. [drn/Humas UB/ Trans. Iir]